Beware of the Mango Mezcalitos: Lessons From Deepgram's Cabo Off-Site

Published on 04/26/23
Updated on 06/20/23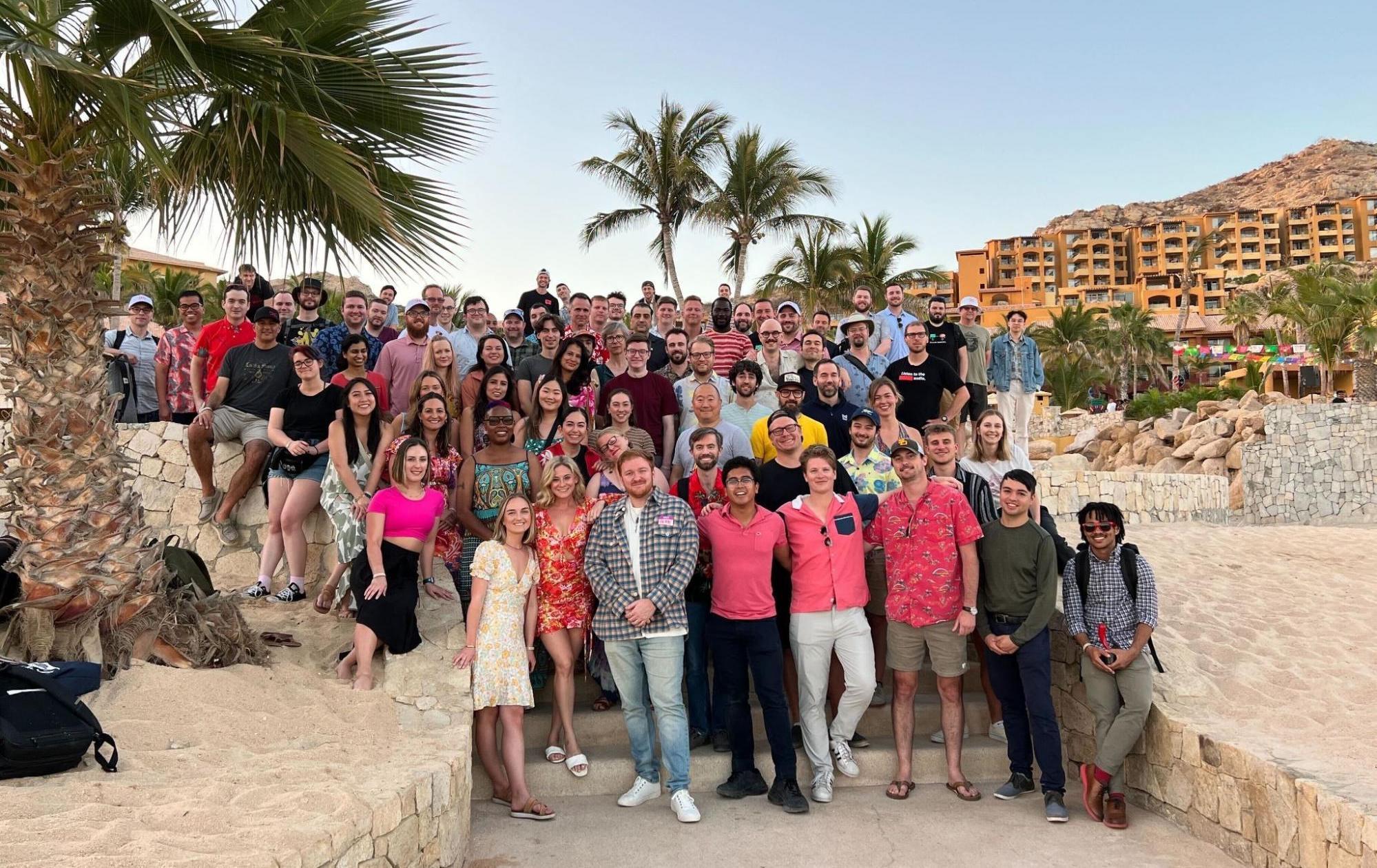 Like other remote-first companies, we have learned over the last couple years that it can be difficult to foster a sense of belonging in a virtual world. So, how does a company break through these remote-first hurdles? Having grown by 9x during the pandemic and only having one small physical office, we knew this required getting together face to face. We also know that we all work better in the sun. The solution? A week-long offsite in Cabo. 
As a company with over 100 employees, we knew it would both require a nontrivial financial investment, and take people away from their day-to-day work and responsibilities. It was a gamble, but—spoiler alert—it was worth it. 
We went to Cabo with three goals in mind: 
Work together, side by side, in the same physical space, accomplishing goals in real time

Solidify the "big picture" shared understanding of Deepgram: what matters most for the company, our vision and goals, our current priorities to meet those goals, and what we'll do about it, etc.

Enjoying each other's company, relaxing and spending social time together as a team
Setup for Serendipity: How We Planned Our Offsite
Building connections and encouraging collaboration across a remote-first company can be difficult. When putting together our first company wide off-site, we wanted to ensure that, when our employees walked away, they felt closer to their coworkers, more connected, and experienced a stronger sense of belonging. To achieve this, we planned team-based events throughout the week, including social events like "Dine-around Dinners," Deepgram stories, karaoke, educational sessions, and Build Together teams. 
Dine-around Dinners offer an opportunity for coworkers to connect with each other outside of their usual social circle. We hosted two of these throughout the week.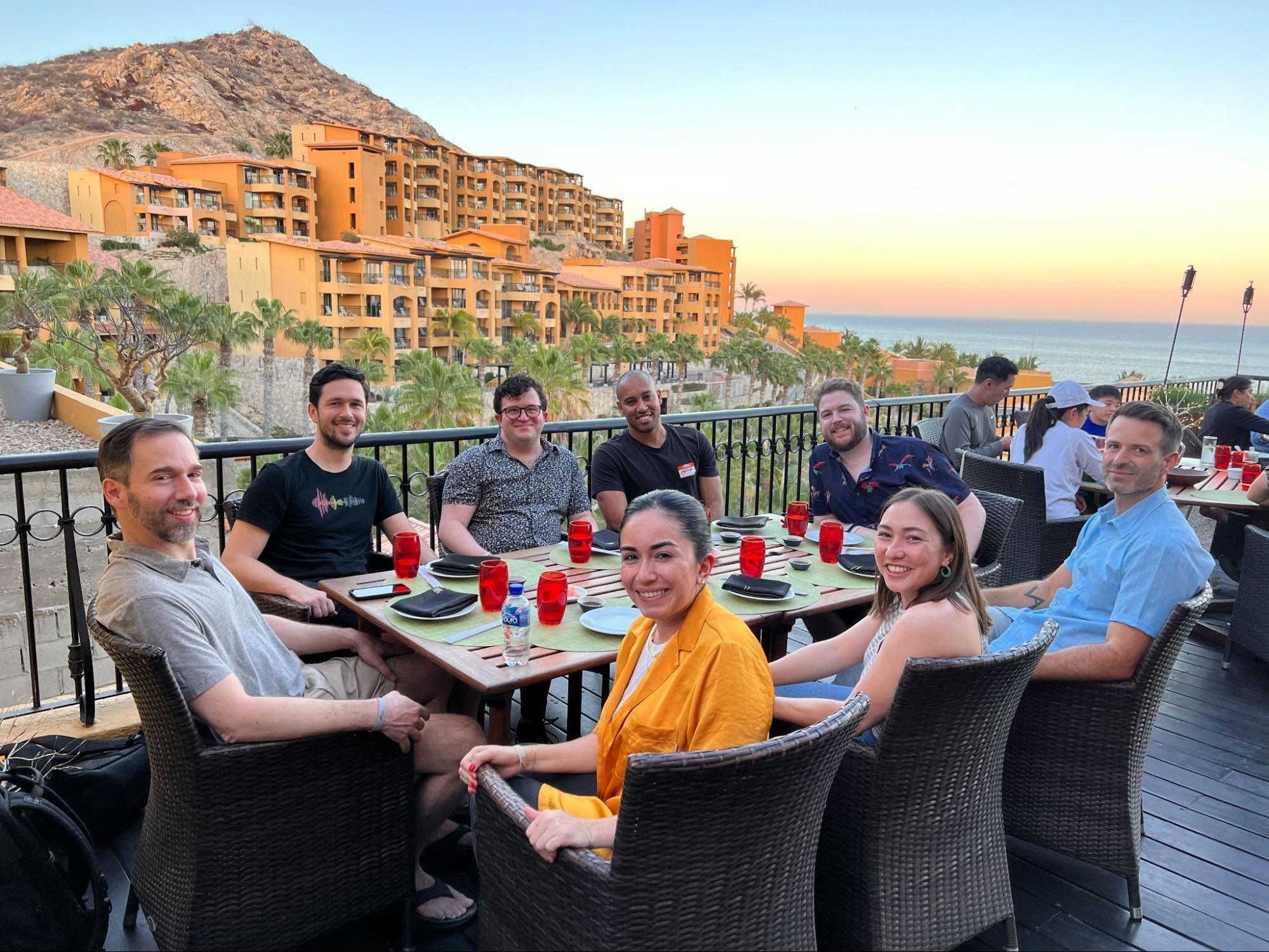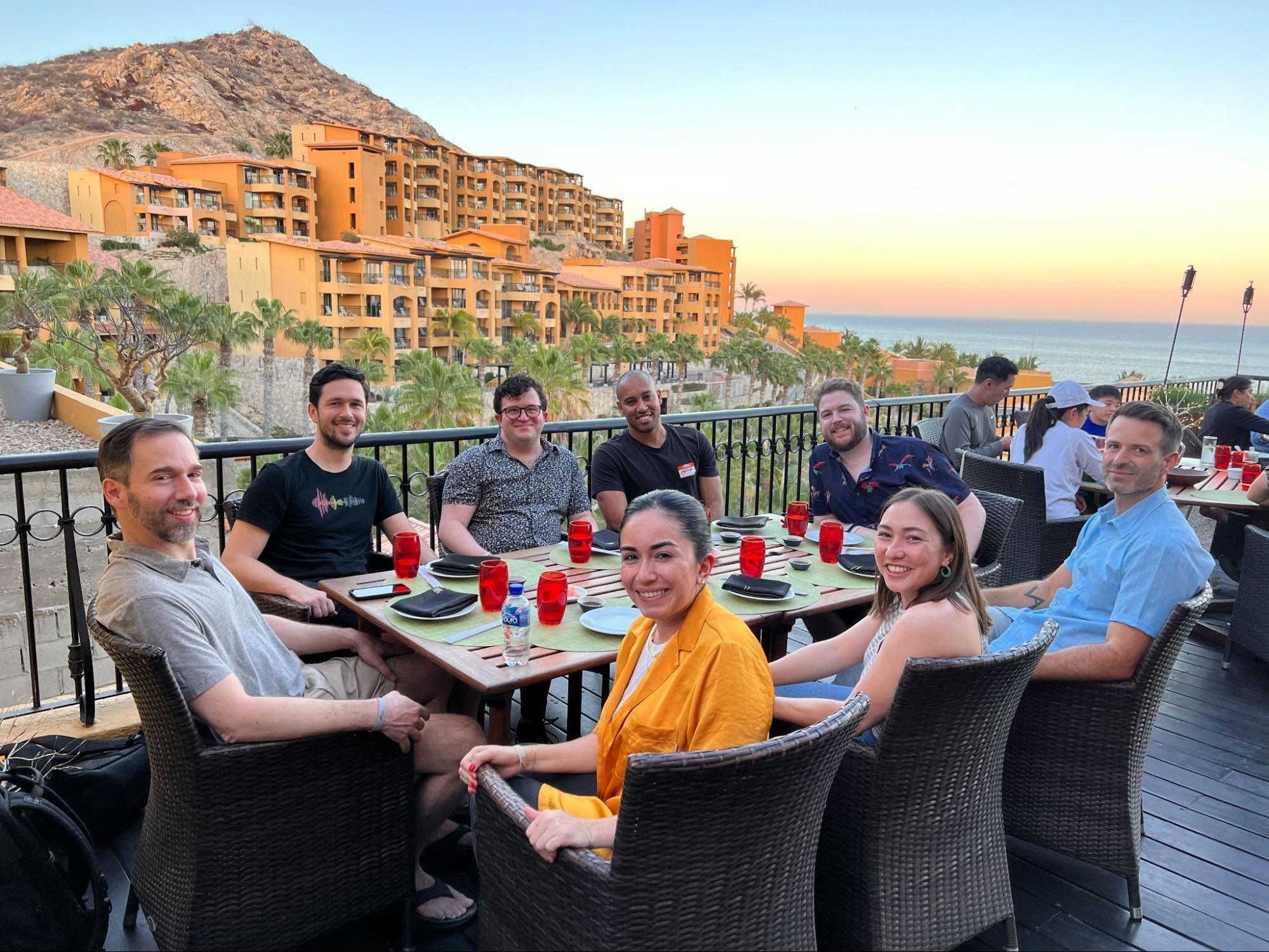 One of the biggest hits at our offsite was "Deepgram Stories" night, which consisted of a casual panel discussion featuring some of Deepgram's earliest employees, several of whom joined shortly after the company was founded in 2015. They shared stories about our first office, our first deal closed, and all the fun in between. This event served a few purposes: We had the opportunity to showcase the voices and perspectives of early joiners, we highlighted the humanity (and all-too-human foibles) of our most senior staff, and we had the opportunity to communicate the unique challenges of laying the groundwork for startup success.
Lastly, the most exciting event of the entire trip was karaoke! For our last night in Cabo, Deepgrammers gathered together for a low-stakes night of song and dance, accommodating and celebrating everyone brave enough to take the stage. In the most literal sense of the word, it was a transcendent experience, in the most rollicking and (sometimes) goofy ways possible. Solo singers took the stage, small groups sang their hearts out, and some songs elicited a whole-company rendition of the track in question. Longtime friends led on some tracks, and otherwise perfect strangers spontaneously banded together, connected by the shared love of a specific song.
10/10 we're doing karaoke again.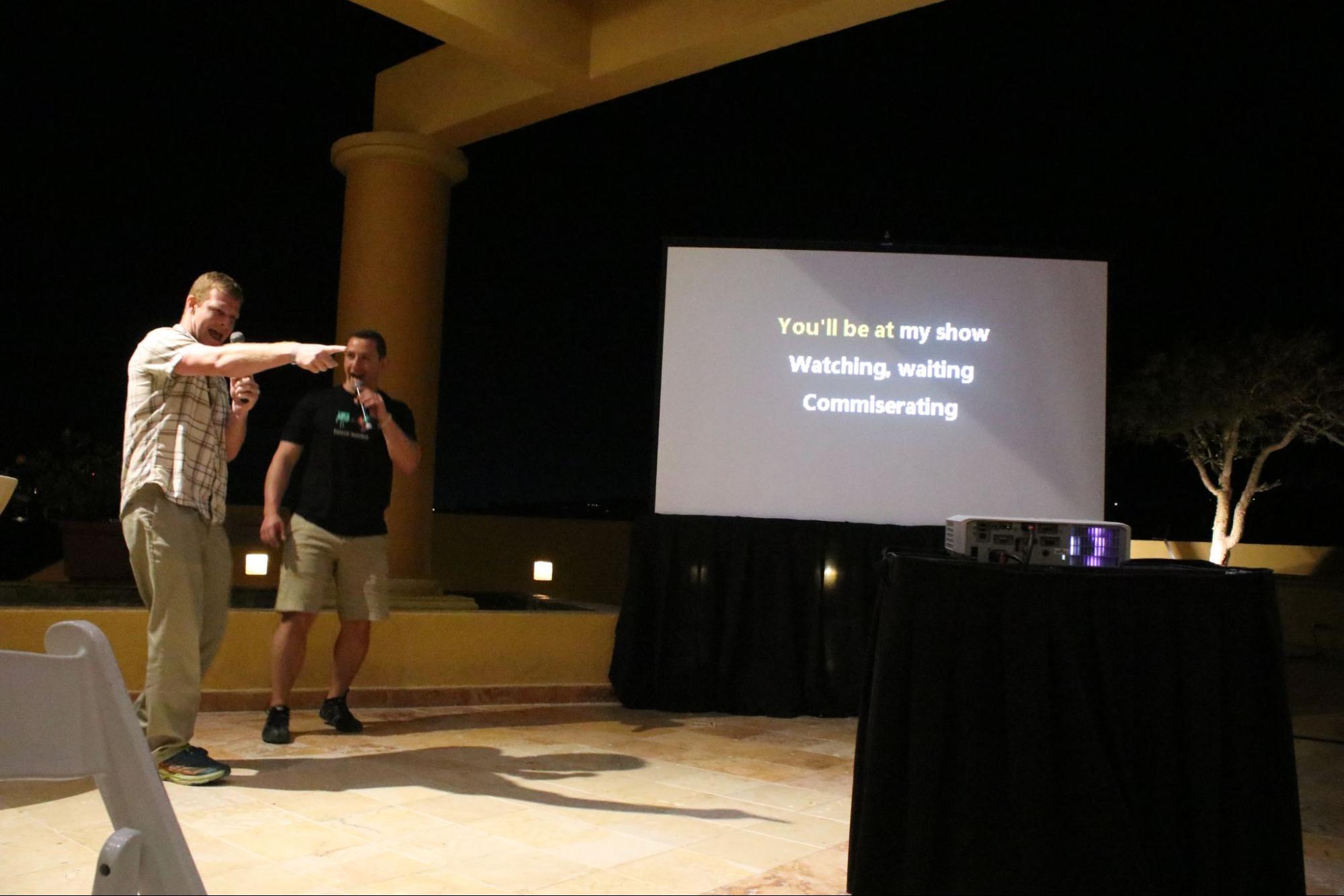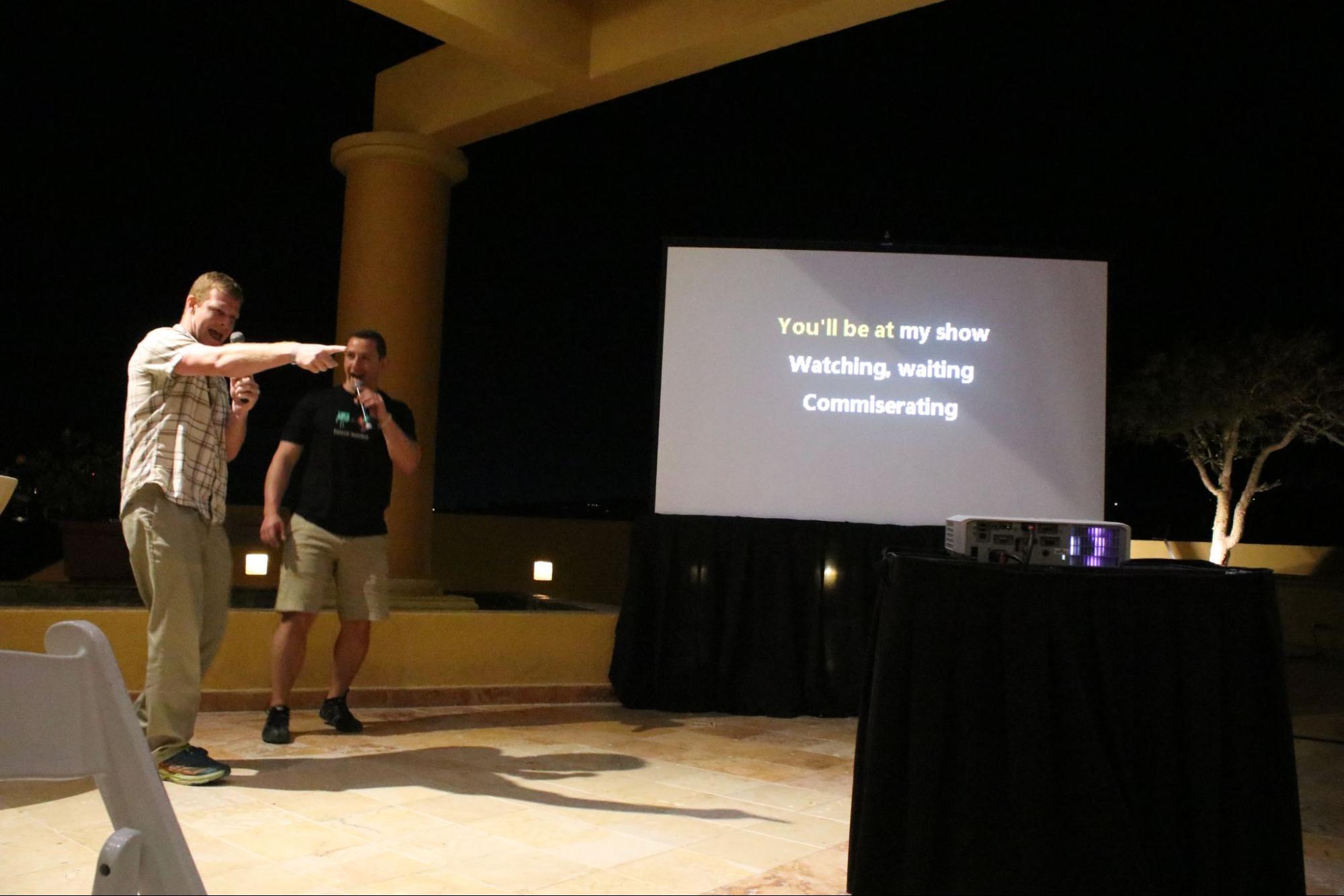 How We Approached Meetings
Our team meetings were far from monotonous; we mixed things up in various ways. Different teams came together and collaborated over their current work projects, asked questions amongst each other and just bounced ideas back and forth. 
We scheduled "Build Together" time to promote cross-organizational collaboration and education time to learn more about what each team does. A few examples of these sessions include "How to Deepgram," "Voice of the Customer," and "What makes a Deepgrammer?" (pictured below). 
For the Build Together time, employees were broken up into teams to build demos for our current customers. Throughout the week, these teams met with each other, built out these demos, and then presented them to the rest of the company. The teams gave each person the ability to shine bright in their area of expertise.
Over the course of our 5 day off-site we found time to hold in person meetings, collaborate as a team, build some really cool things, and plan for the future of Deepgram. We also found time to laugh, play, and relax together. But most importantly, we found that we were able to connect with each other and build a sense of belonging that we didn't have before. 
After our off-site concluded, we asked Deepgrammers to complete a short survey. Here were some of the biggest takeaways:
94% of employees felt an increased sense of belonging among other Deepgrammers

92% of Deepgrammers had more clarity in Deepgram's Vision, Mission, & Strategy

81% of Deepgrammers felt more confident in Deepgram's leadership 

The element that Deepgrammers liked most about the offsite: Meeting & socializing w/ each other!!
As a remote-first company, we've felt firsthand what a lack of in-person connection can do to a team. We've just scratched the surface of our potential as an organization and have reaped the benefits of making the decision to gather and work together in person. We can't wait to see where our next off-site takes us!