Stay Updated in 2023: Top Artificial Intelligence Newsletters on Substack You Shouldn't Miss

Published on 09/06/23
Updated on 09/07/23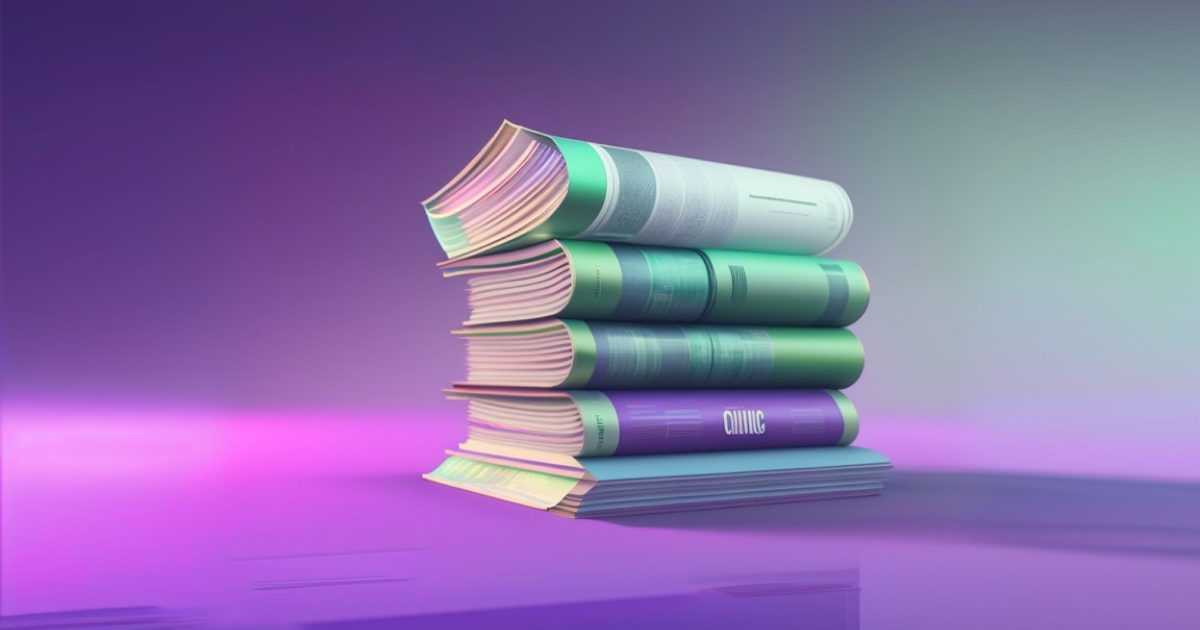 The power of a great newsletter is priceless(ish?). What's the key to unlocking one newsletter to rule them all? Understanding your needs as a reader.

When you've finally found a newsletter that meets your needs and preferences, you'll be guaranteed relevant content every read and consistent delivery. You're gaining valuable insights, perhaps even best practices, that you can't find anywhere else. An excellent newsletter can feel like a backstage stage pass to your favorite hobby or profession. When you find yourself counting down until the next read, you know you've found the one. Put a ring on it—or simply subscribe.
Today, we see newsletter mavens and new readers on the block coming together on the hunt for quality reads. If you're reading this blog, you're specifically on the hunt for stellar AI content. Let us share a (gentle?) reminder as to why. 
Dynamic Field of AI
The dynamic field of AI is propelling forward at breakneck speed. Just a few years ago, we marveled at simple chatbots. Now, we have AI creating art, diagnosing medical conditions, and driving cars autonomously. With AI trends and updates in high demand, staying informed is essential. However, this surge in information has created a lot of noise, underscoring the value of an excellent AI newsletter. But no need to fret; we've sifted through the noise for you.
Secure your neck braces now with these top AI Substack newsletters. 
Reader Paths
We acknowledge our readers have different experience levels and needs when it comes to AI newsletters. We do recommend reading all of these AI newsletters (when the time feels right), but to provide lightening speed value, we've broken down which newsletters to read about first: 
For the AI Newsletter Mavens

For a unique beginning, start with reading about AI Snake Oil. Followed by The Algorithmic Bridge and The Gradient for a comprehensive content net. These two newsletters should have you catching timely AI news and quality research. Then What Did OpenAI Do This Week? And if you can afford the fun and insights from SemiAnalysis, tell us everything. 
For the New Readers on the Block
If you're a new reader in the AI newsletter space, start by reading about What Did OpenAI Do This Week? and follow it with The Algorithmic Bridge. These newsletters cover AI business and best practices. Then, jump to The Gradient and AI Snake Oil. Learn up so that if you find SemiAnalysis financially accessible, you will have a cute imaginary AI cup (made up of your foundational knowledge) to steep the technical "tea" in.  
Top AI Newsletters on Substack
AI Snake Oil
Ever stumbled upon a newsletter that's morphing into a book? Well, now you have. Introducing AI Snake Oil, a unique book endeavor designed to dispel the AI hype, remove misconceptions, and clarify the limits of AI. Arvind Narayanan and Sayash Kapoor are taking their 11,000 subscribers along for the ride as they pave the path to publishing. 
You can expect timely topics from Arvind and Sayash, most recently dispelling accusations about GPT-4's degrading capabilities, emphasizing that power doesn't always translate to behavior, and pointing out the current evidence (or lack thereof). AI Snake Oil champions transparency reports in the AI realm. Detailed transparency reports quantify the spread of harmful content on a platform. If social media has made it a standard practice, maybe AI should also. It's a conversation worth having, and AI Snake Oil is boldly leading the way.

If you're keen on navigating the AI landscape with transparency and avoiding the hype, AI Snake Oil has made it accessible for all. Eager for the book? Enjoy a sneak peek.
The Algorithmic Bridge
Welcome to The Algorithmic Bridge (TAB), a Substack newsletter motivated by Alberto Romero's realization that his family and friends knew very little, if anything, about artificial intelligence and the influence it is having on our daily lives. With this sense of purpose fueling Alberto's output, this "bridge" is closing the gap on all things AI. 
TAB's weekly AI newsletter, What You May Have Missed (WYMHM), is leaving no (AI) stone unturned. From the business side of AI, Alberto is addressing the current shortage of H100 graphic processing units (GPUs). Put simply, AI companies need GPUs to train and do interference testing on their models. This critical and real-time challenge highlighted in WYMHM has turned into a three-part series breaking down companies' approaches and a comprehensive overview of the situation. Rest assured, folks in the AI business will benefit greatly from this series alone.
Other topics WDYMHM is digging into the intricate capabilities and limitations of language models through counterfactual tasks and the heavy toll cleaning up ChatGPT is taking on human workers. 
The vast world of AI can feel like rocky terrain, and The Algorithmic Bridge is unveiling the hidden gems beneath at a small price. This treasure of a newsletter knows its "cents" of worth. 
The Gradient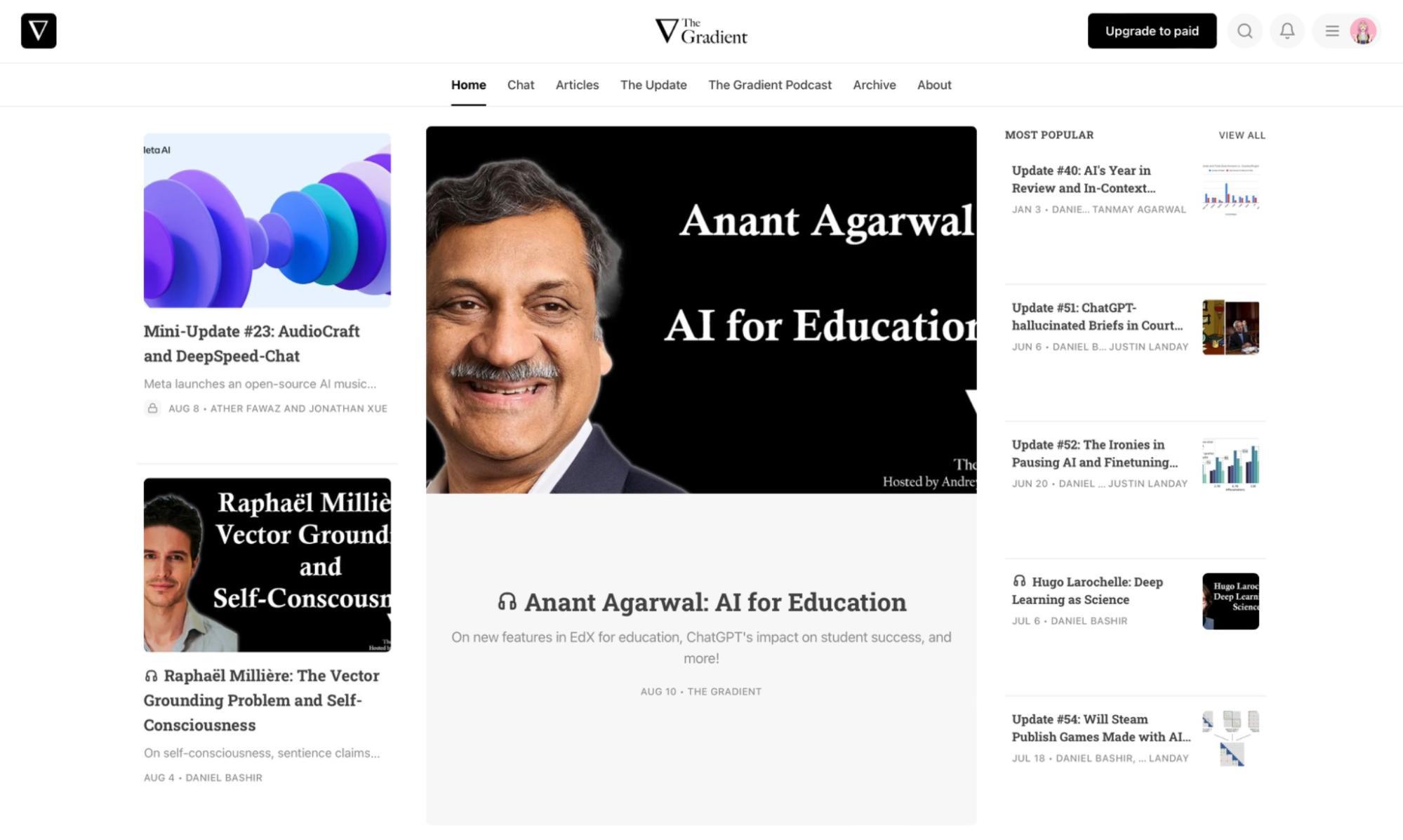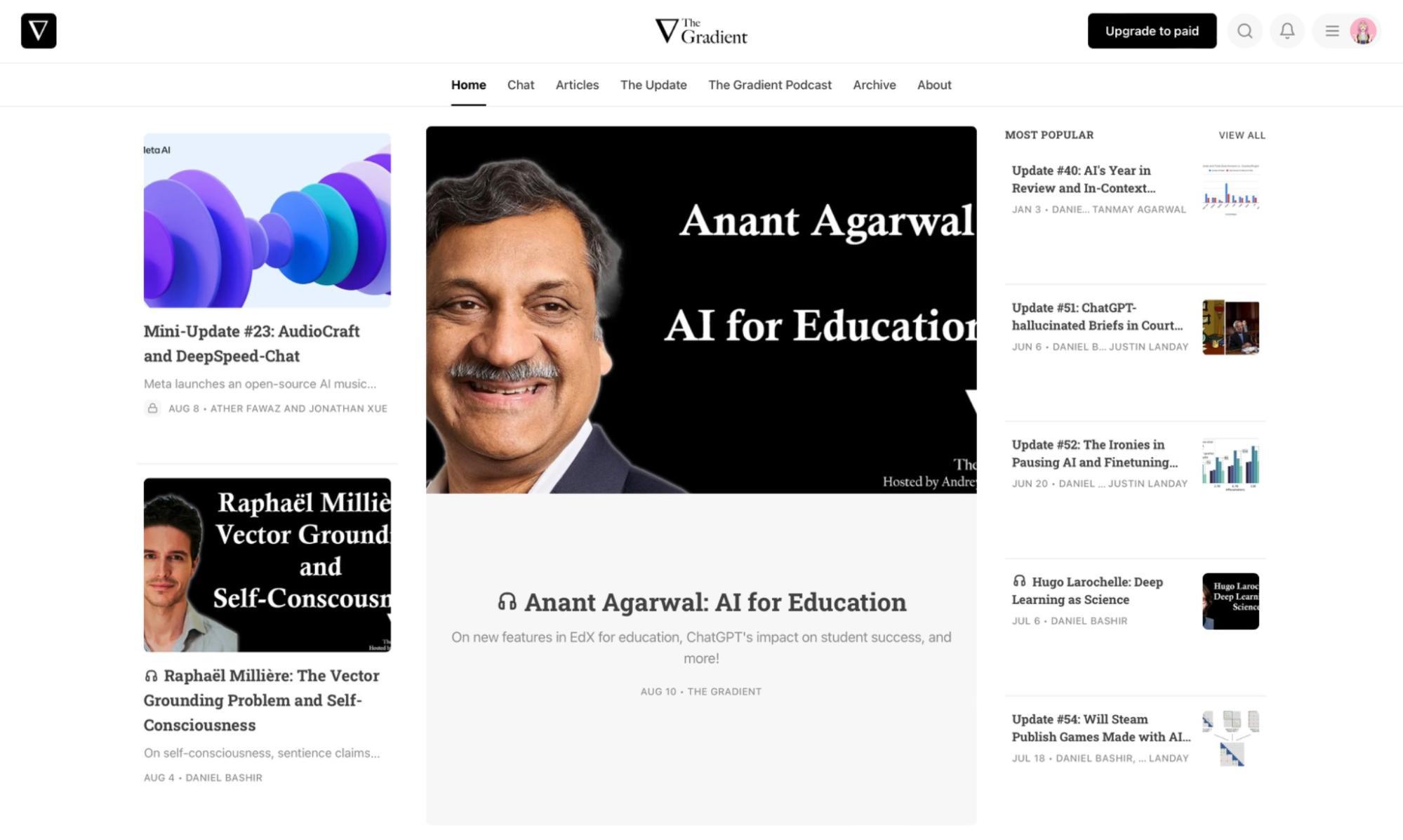 Meet The Gradient, a brainchild born in 2017 by students and researchers at the Stanford Artificial Intelligence Laboratory (SAIL). This nonprofit is on a mission to demystify AI for over 30,000 subscribers, and you if you're interested.
You can find a melting pot of insights from grad students, researchers, and engineers from all over, writing about everything from autonomous robotaxi issues and scaling multi-layer perceptrons (MLPs) to the art and science of taming wild internet-scale data distributions. Their bi-weekly newsletter, "The Update" (available in both free and premium flavors), will keep you in the loop on the latest AI news. One of their standout pieces this year? A deep dive into the fundamental limitations of alignment in large language models (LLMs) sparked a tantalizing question: Is today's AI all about digital domestication?
Unpack more insightful articles in the AI realm from "The Gradient Magazine" and intriguing interviews on "The Gradient Podcast." 
SemiAnalysis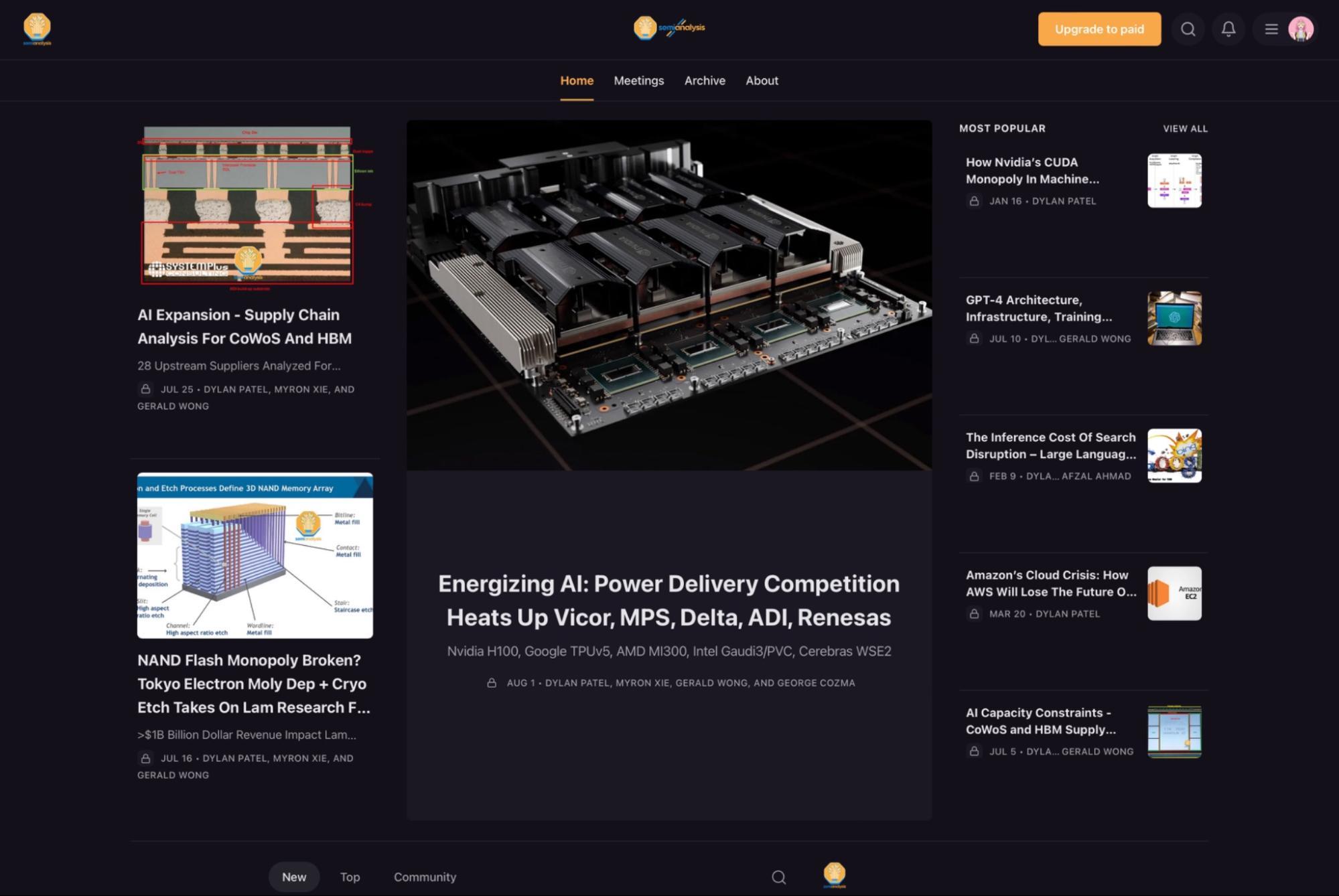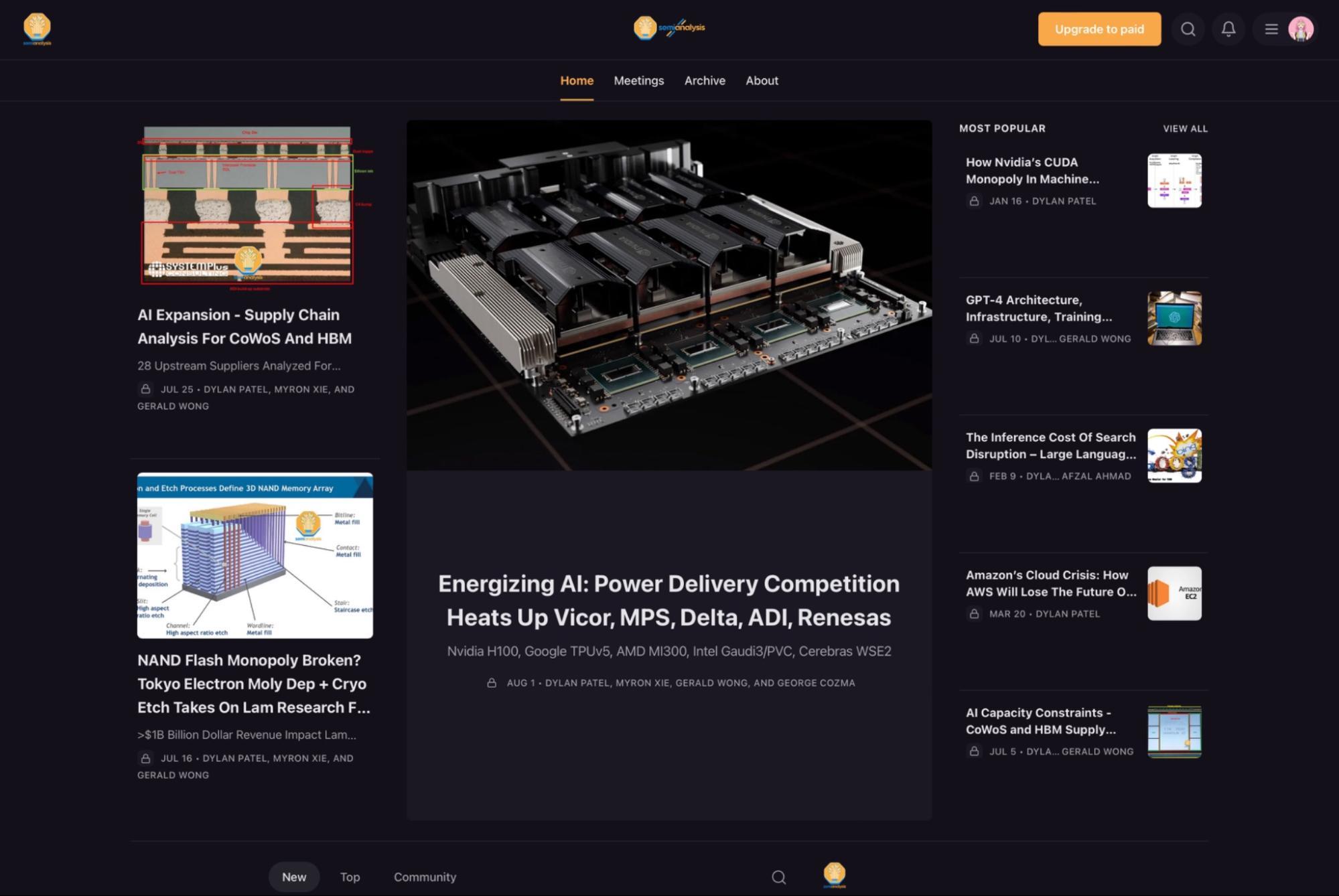 In the bustling world of machine learning, there's a constant hunger for data. And guess what's serving up the feast? Semiconductors. Enter SemiAnalysis and over 49,000 subscribers.
SemiAnalysis is a boutique semiconductor research and consulting firm and a leading technology newsletter. SemiAnalysis will leave you exclaiming, "Oh(m) my goodness!" when you read bold statements on how and why every other GPT-4 like-model will be just as capable, if not more, in the near term. We suggest you bring a cup to this newsletter as it spills the tea. Technical tea, that is, covering other rich AI news like how Nvidia's CUDA monopoly in machine learning is breaking and the pressing topic of AI capacity constraints. 
SemiAnalysis' free subscription has scarce reading options: an annual subscription for $500, or you can hop in a 60-minute meeting with the writer himself, Dylan Patel, for $2,500. We can't say this is a broken semiconductor because it has potential. But we're intriguingly curious: Would you consider paying the $2,500? If yes, tell us why in the comments.
What Did OpenAI Do This Week?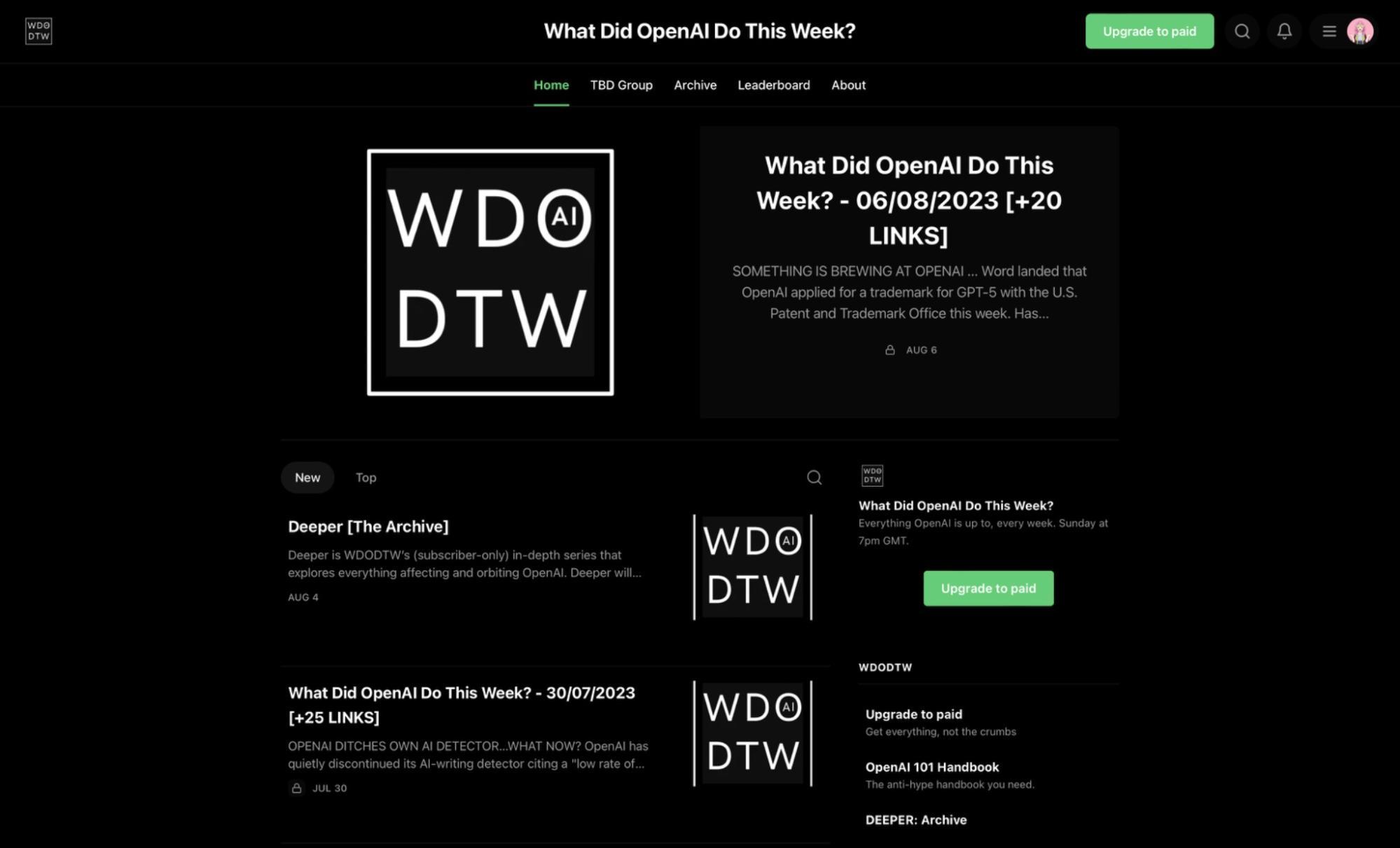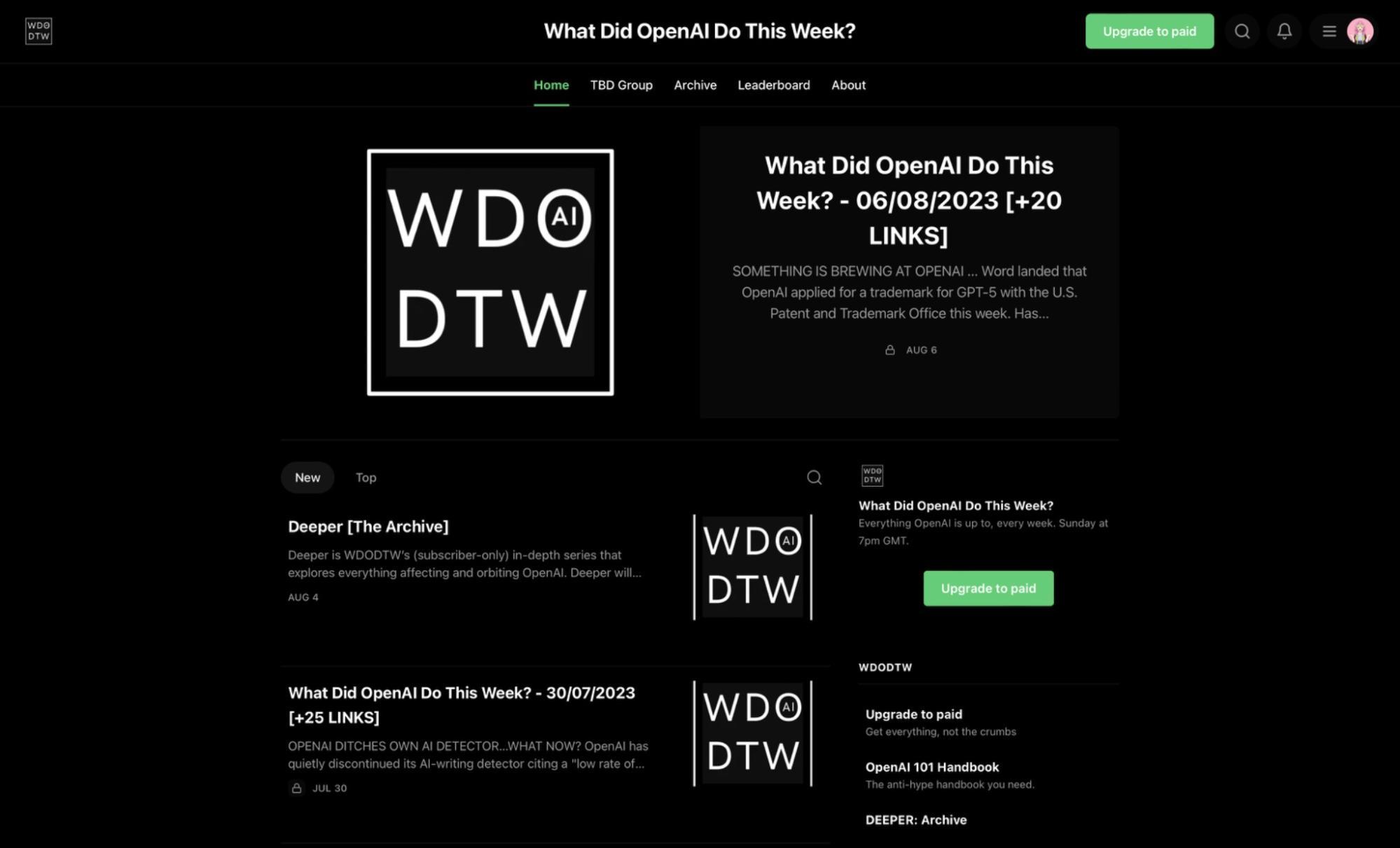 Say hello to 'What Did OpenAI Do This Week?' (WDODTW), a top 100 technology Substack crafted by Helen Chapman and Paul Armstrong. From the title, you've probably guessed it's your weekly dose of everything OpenAI—and yes, even Forbes gave the newsletter a thumbs up.
Read around the world; in over 100 countries, you can expect a weekly update analyzing OpenAI's latest moves, handpicked editorial links, interviews, strategic tips, and more. Curious about the latest buzz? WDODTW is currently discussing the quiet discontinuation of OpenAIs AI-writing detector, citing a "low rate of accuracy" and no replacement tool to be named. Content detection is still a significant concern within AI-generated text, most prominently among educators. So, if OpenAI can't crack an AI identifier, who can? WDODTW writes about who and the horizon of new plans to answer 'Was this created by AI?'.
These real-time topics create a competitive advantage for readers and come at a price. Luckily, you can test the waters with a 7-day free trial. And for those just dipping their toes in the AI and OpenAI universe, grab their OpenAI 101 handbook to help navigate OpenAI with clarity.
Subscribe for More
We hope you are leaving this article with the correct map (AI newsletter) to navigate this maze of an AI world. Enjoy diving in and exploring. And don't be modest - if you put a ring on it, we want links to engagement photos in the comments below.
Oh and you might also want to check out AIMinds, a newsletter covering the brainy, zany world of artificial intelligence, brought to you by the Deepgram team.